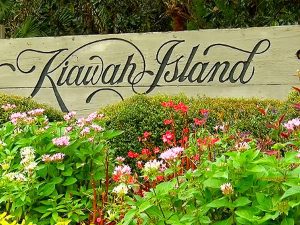 Kiawah Island real estate for sale offers prospective buyers looking for luxury gated resort properties just about anything they
could want. The resort is very quiet, very well-manicured, opulent, and most of all beautiful. The developers of Kiawah Island wanted to make sure that the houses, cottages, and condos didn't overpower or disturb the indigenous nature and foliage of the island, their goal was to keep it as pristine as possible. While at the same time offering a luxury golf experience like no other on the planet, and they pretty much did it. The beachfront front homes on Kiawah Island are like no other in SC, unlike most of the SC beachfront communities Kiawah has tried to make sure that there aren't too many people on the beach so you feel like you're almost the only ones there. If you're not ready to own a house on Kiawah Island, there are still plenty of land lots available for those who think they want to build their dream home on the resort. View all MLS real estate property listings for sale on Kiawah Island including: fractional interval partial ownership homes, townhouses, new construction, villas, waterfront properties, golf course properties, lots, oceanfront condos, and more. Kiawah Island is all but one of the many Charleston SC golf communities.
2019 Owner Dues Details
MLS Listings Data
| | |
| --- | --- |
| Total Listings: | 45 |
| Average Price: | $2,358,349 |
| Highest Listing Price: | $6,995,000 |
| Average Days On Market: | 85 |
| Average Price/SqFt: | $882 |
Kiawah Island SC Real Estate For Sale currently has fourty-five (45) for sale on MLS. Kiawah Island SC Real Estate For Sale listings have an average sales price of $2,358,349 ranging in price from $529,900 to $6,995,000. The average sq ft home size of Kiawah Island SC Real Estate For Sale Kiawah Island SC is 2,675 square feet. The largest property for sale is 6,458 sqft and smallest 606 sqft. View property listings for sale by price, street, subdivision, age, property type, location, features, size, and listing date, and time on MLS with an of 85 days on the market.
Number of MLS Listings 1 - 9 of 45
---
PROPERTIES FOR SALE BY KIAWAH ISLAND DEVELOPMENTS & SECTIONS
SECTIONS - NEIGHBORHOODS - DEVELOPMENTS KIAWAH ISLAND
---
UNDERSTANDING OWNERSHIP COSTS KIAWAH ISLAND
If you see the graphic below an improved lot (meaning any property that is not just a lot) has $2369 yearly POA dues, this cost goes to the beautification, insurances, gate expenses, and upkeep of the amenities of the resort.  General Assessments Paid by all members, general assessments cover the maintenance of common properties (e.g., association owned/leased roads, landscaping, lakes, leisure trails, signage, and the majority of boardwalks), security operations (e.g., gate access, patrols, and commercial access) and administrative operations (e.g., insurance on common properties, legal and accounting services). Sandcastle/Pool Amenity Assessment This member assessment funds the operation and maintenance of the Sandcastle Community Center and pool.
At closing, there is a 1/2 of 1% of the purchase price goes to the capital contribution of the Kiawah Island Properties Owners Association. If you purchase a condo/villa each development has its own monthly or quarterly regime fees that vary per project. Many of the developments also have an insurance assessment where all the owners contribute to their portion of the insurance costs for the development. 
CLUB(S) INFO:
KIAWAH ISLAND CLUB – 
If you want to belong to the Kiawah Island Club the only way to do so is by purchasing a property that has a membership included with the sale. There are three types of membership levels: Golf, Sports, and Social: Golf is most expensive at $135,000 (ONE TIME 80% refundable), Sports – $110,000 (ONE TIME 80% refundable), & Social – $50,000 (80% Refundable).  At the moment there are only two developments that have required club membership: Cassique & The Settlement.
GOVERNOR'S CLUB –
---
A VIEW OF KIAWAH ISLAND VIDEO FLY OVER
---
 HOME SALES TRENDS & DATA KIAWAH