Real estate for sale The Old Village Mount Pleasant SC. One of the most coveted communities in Mount Pleasant SC. Considered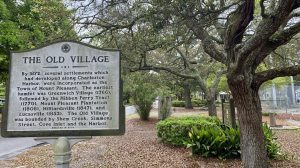 by locals to be a hidden gem to non-locals the real estate in the Old Village is made up of mostly older homes, some custom and renovated homes, and the lots are large. The Old Village has its own elementary school, it's close proximity to Sullivan's Island, and has wonderful mature oak trees. Real estate, however, is expensive because of the demand to find homes for sale in The Old Village. When they come available they are usually snapped up quickly. There are homes for sale right on the harbor of Charleston on deep water with some of the best views in the entire area. See All the market sales data, and homes under contract in The Old Village. Check out the newest development Edwards Place in the Old Village. 
MLS Listings Data
| | |
| --- | --- |
| Total Listings: | 6 |
| Average Price: | $3,130,700 |
| Highest Listing Price: | $5,989,200 |
| Average Days On Market: | 181 |
| Average Price/SqFt: | $1,036 |
The Old Village Mount Pleasant Homes For Sale currently has six (6) for sale on MLS. The Old Village Mount Pleasant Homes For Sale listings have an average sales price of $3,130,700 ranging in price from $1,200,000 to $5,989,200. The average sq ft home size of The Old Village Mount Pleasant Homes For Sale Mount Pleasant SC is 3,021 square feet. The largest property for sale is 4,278 sqft and smallest 1,916 sqft. View property listings for sale by price, street, subdivision, age, property type, location, features, size, and listing date, and time on MLS with an of 181 days on the market.
Number of MLS Listings 1 - 6 of 6
---
ABOUT THE OLD VILLAGE & LIFESTYLE
The Old Village is a historic neighborhood located in Mount Pleasant, South Carolina, a suburb of Charleston. The neighborhood is situated on a peninsula that is bordered by Charleston Harbor and Shem Creek, providing residents with easy access to water activities such as boating and fishing.
The Old Village was first settled in the early 18th century and has since become a picturesque and sought-after community with
charming homes, tree-lined streets, and vibrant local culture. The neighborhood features a mix of historic homes, modern homes, and new construction, and the area is known for its small-town charm and friendly community. The Old Village does not have an HOA because of its age, and thus it is very popular with those who own boats and want a little more freedom to do with their property as they wish. Adjacent to the "historic" Old Village are some newer subdivisions that would have HOA's and restrictions that offer a more "cohesive" contemporary environment. 
The lifestyle in the Old Village is laid-back and family-friendly, with a focus on outdoor activities such as walking, biking, and community events. The Old Village is also home to the town office for the Mt Pleasant Recreation department, the playground at Alhambra (with a dog playground), and public tennis courts. Residents can enjoy strolling along the waterfront, exploring local parks, or taking part in community events such as the annual Blessing of the Fleet or the Old Village Home, Garden, and Art Tour.
In terms of amenities, the Old Village has a variety of shops, restaurants, and services to meet the needs of residents. Shem Creek is a popular spot for seafood restaurants and nightlife, while Pitt Street, the main thoroughfare, is home to a variety of local businesses, including a grocery store, pharmacy, and gift shops.
---
ALL MOUNT PLEASANT NEIGHBORHOODS MLS LISTINGS