View all homes for sale on Lake Murray in Columbia SC. Here you will find all MLS real estate listings on Lake Murray in South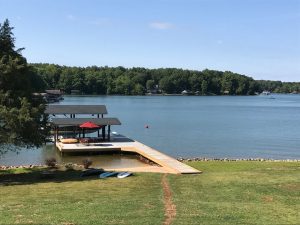 Carolina: search by town, size, age, and more. See lakefront houses for sale in Columbia SC's famous Lake Murray, the 10th largest man-made lake in the United States. Homes for sale in Chapin, Lexington, Columbia (Aka Irmo depending on county lines), Leesville, Prosperity, and Gilbert SC, and Saluda. Waterfront homes on Lake Murray for sale Columbia SC. Most Lake Murray properties will consist of single-family detached luxury homes, but there are a few condo developments for sale on Lake Murray SC: such as Mallard Shores, Lands End, Spences Point, & Yacht Cove. Before you start building on your lot if you want a new home, it would be wise to get familiar with the SCE&G dock permit rules Lake Murray. View neighborhoods on Lake Murray with marinas. 
Lots/Home SitesView Listings
WatereeCamden
MonticelloListings
MarionSantee
MoultrieSantee
Upstate SC LakesHartwell - Jocassee - Keowee
MLS Listings Data
| | |
| --- | --- |
| Total Listings: | 105 |
| Average Price: | $915,121 |
| Highest Listing Price: | $3,575,000 |
| Average Days On Market: | 67 |
| Average Price/SqFt: | $298 |
Lake Murray Homes For Sale SC currently has one hundred and five (105) for sale on MLS. Lake Murray Homes For Sale SC listings have an average sales price of $915,121 ranging in price from $175,000 to $3,575,000. The average sq ft home size of Lake Murray Homes For Sale SC Lexington SC is 3,067 square feet. The largest property for sale is 20,073 sqft and smallest 440 sqft. View property listings for sale by price, street, subdivision, age, property type, location, features, size, and listing date, and time on MLS with an of 67 days on the market.
Number of MLS Listings 1 - 9 of 105
---
ABOUT LAKE MURRAY
Lake Murray in Columbia SC is technically a 50,000 acres +/- reservoir that came as a result of damming the Saluda River in 1930. It is currently the 10th
largest man-made lake in the United States of America and is named after the engineer who originally drafted up the 1930 plans for the hydroelectric project Mr William Murray. There is approximately 500 miles of shoreline which make lakefront water view homes very desirable and available. 
In Oct 2013 SCE&G (South Carolina Electric and Gas) the chief directors of the dam and the lake levels did an intentional drawdown to enhance the water quality and an added benefit to the draw-down is that this will give lake residents and businesses roughly a month at the lower level to make dock repairs and shoreline improvements that are permitted by SCE&G's Lake Murray Shoreline Management Plan," continued Landreth. 
Lake Murray fishing is one of the best in the nation, and has been and is regularly home to many BASS PRO & FLW PRO fishing events including the Bassmaster Classic, and many countless other noteworthy angling events. It is home to such species as largemouth bass, smallmouth bass, pickerel, crappie, bluegill, shell crackers, catfish(es), gar, striped bass, white bass, herring, shad, carp, sunfish & more. 
There are multiple marinas on Lake Murray for those who want to own and keep a boat in a convenient place if you don't own a waterfront on the lake house, however for those who wish to own a house on Lake Murray SC, you can search here for all the MLS listings that Lake Murray has to offer. 
Lake Murray is primarily surrounded by 7 towns the three most well known and largest towns where real estate is readily available around the lake, both homes and land lots: Irmo (one of the larger), Chapin, and Lexington (also large). The other smaller towns that surround Lake Murray, although more rural are Leesville, Gilbert, Saluda, and Prosperity. 
---
A MAP OF ALL MARINAS & NEIGHBORHOODS WITH MARINAS ON LAKE MURRAY
ABOUT LAKE MURRAY REAL ESTATE
Lake Murray is comprised primarily of single-family homes with most of them located in what is considered Columbia but is really the town of Irmo. The other two largest towns are Lexington & Chapin mentioned above where the vast majority of properties for sale will be simply because of the fact there is more shoreline. Most of Lake Murray is not considered a flood zone although the "2015 flood" when SC endured what was said to be a once in a lifetime 1000 yr rainfall there were significant problems with flooding and the lake officials were forced to open the emergency dam for the first time since the dam's construction. 
There are really no building restrictions specific to owning or building on the lake except the permits and requirements of what the city/town allows and MOST importantly your dock permits by SCE&G. As far as attached homes are concerned there are only a few townhome developments and/or condominium projects on Lake Murray. 
---
ALL THE LAKES OF SOUTH CAROLINA
LAKES OF SC HOMES FOR SALE