Lake houses for sale SC and waterfront real estate for sale in South Carolina's primary famous lakes: Lake Murray, Lake Marion,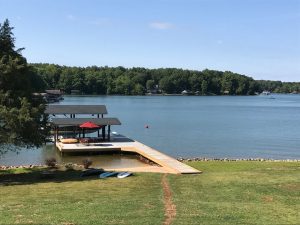 and Lake Moultrie, and Greenville SC waterfront homes. Below are the homes for sale in Santee SC area which covers two of the largest lakes nearest to Charleston SC so it will show you all the lake properties for sale in Summerton, Eutawville, Pinopolis, Bonneau, Manning, Elloree, and Vance. Scroll down further to see Lake Murray waterfront listings on MLS in Columbia: Chapin, Lexington, Irmo, Saluda, Leesville, Prosperity, Gilbert, Timberlake Country Club, or click button below. For those of you who would like to live near the coast and like to live on the water Charleston SC waterfront homes are different in that that mostly include properties on saltwater Intercoastal waterway (ICW), riverfront, & deep water creeks where boats can navigate. Which will also be the case obviously with all houses near the coast like Myrtle Beach, Georgetown, Beaufort, Bluffton, Pawley's Island & Hilton Head. 
WATERFRONT CONDOS in SCview now
MLS Listings Data
Highest Listing Price:
$1,299,000
Average Days On Market:
204
Number of MLS Listings 1 - 9 of 49
---
LAKES OF SOUTH CAROLINA
LAKES OF SC HOMES FOR SALE
LAKE MURRAY REAL ESTATE
However, if you're looking for homes for sale on Lake Murray in Chapin, Columbia, Irmo, Gilbert, Prosperity or Lexington view properties for sale with the link above on MLS. See all the lakefront houses for sale in Columbia SC on Lake Murray in both Lexington & Richland counties. 
MLS Listings Data
Highest Listing Price:
$1,880,000
Average Days On Market:
18
Number of MLS Listings 1 - 18 of 25