Real estate for sale Boiling Springs SC. View all houses for sale in the town of Boiling Springs South Carolina. Search homes for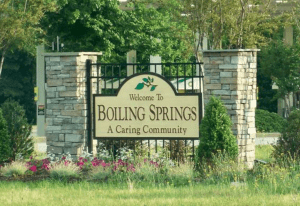 sale by price, size, age, list date & more, as well as townhouses, new construction, waterfront houses, condos, land, lots, and homesites for sale by acres and list date in Boiling Springs (updates every 4 hours with the newest listings). Boiling Springs is a small town located in Spartanburg County, South Carolina, about 20 miles north of Greenville. It is situated in the foothills of the Blue Ridge Mountains and is known for its natural mineral springs, which were believed to have healing properties.
In terms of the real estate market, Boiling Springs has experienced steady growth in recent years, with a median home value of around $200,000. The town offers a mix of housing options, including single-family homes, townhouses, and condos, with a range of prices to fit different budgets. Boiling Springs is considered a desirable area to live in due to its proximity to Greenville and the quality of life it offers, including highly rated schools, access to parks and recreational facilities, and a strong sense of community.
MLS Listings Data
| | |
| --- | --- |
| Total Listings: | 146 |
| Average Price: | $340,099 |
| Highest Listing Price: | $1,399,900 |
| Average Days On Market: | 11 |
| Average Price/SqFt: | $160 |
Boiling Springs SC Homes For Sale currently has one hundred and fourty-six (146) for sale on MLS. Boiling Springs SC Homes For Sale listings have an average sales price of $340,099 ranging in price from $32,000 to $1,399,900. The average sq ft home size of Boiling Springs SC Homes For Sale Boiling Springs SC is 2,131 square feet. The largest property for sale is 4,000 sqft and smallest 1,000 sqft. View property listings for sale by price, street, subdivision, age, property type, location, features, size, and listing date, and time on MLS with an of 11 days on the market.
Number of MLS Listings 1 - 9 of 146
---
THE NEIGHBORHOODS OF BOILING SPRINGS SC