Upstate SC lakefront homes for sale. The upstate near Greenville South Carolina is home to three amazingly gorgeous large lakes: Hartwell, Jocassee, and Keowee and two smaller lakes all have beautiful real estate for sale. See all waterfront homes & land & homes for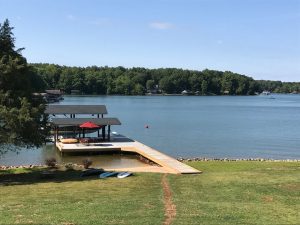 sale on Lakes Jocassee, Hartwell, Keowee, Lake Greenwood, Cooley & Lake Robinson here. View real estate listings on MLS by price, size, acres, sq ft, age, neighborhood, water views, luxury waterfront homes, country clubs, with docks, boat lifts & more. There are many towns outside the Greenville Spartanburg Upstate SC area that have real estate properties along the waterfront such as: Travelers Rest, Seneca, Sunset, Westminster, Anderson, just to name a few. 
MLS Listings Data
| | |
| --- | --- |
| Total Listings: | 125 |
| Average Price: | $1,104,571 |
| Highest Listing Price: | $5,939,000 |
| Average Days On Market: | 111 |
| Average Price/SqFt: | $102 |
Greenville SC Lakefront Real Estate For Sale currently has one hundred and twenty-five (125) for sale on MLS. Greenville SC Lakefront Real Estate For Sale listings have an average sales price of $1,104,571 ranging in price from $199,500 to $5,939,000. The average sq ft home size of Greenville SC Lakefront Real Estate For Sale Sunset SC is 10,868 square feet. The largest property for sale is 351,965 sqft and smallest 999 sqft. View property listings for sale by price, street, subdivision, age, property type, location, features, size, and listing date, and time on MLS with an of 111 days on the market.
Number of MLS Listings 1 - 9 of 125
---
LAKE HARTWELL SC
Lake Hartwell is a man-made reservoir bordering Georgia and South Carolina on the Savannah, Tugaloo, and Seneca Rivers. Lake Hartwell is one of the southeast's largest and most popular recreation lakes. The lake is created by Hartwell Dam located on the Savannah River seven miles (11 km) below the point at which the Tugaloo and Seneca Rivers join to form the Savannah. 56,000-acre Lake Hartwell, is inhabited by striped and hybrid bass, largemouth, crappie, bream, and catfish and is one of the Southeast's premier fishing destinations for professionals. Homes for sale on Lake Hartwell are some of the most expensive properties in the Upstate. 
All the traditional lake recreational activities can be seen and done here on Lake Hartwell: 
Camping. The U.S. Army Corps of Engineers manages 9 campgrounds at Lake Hartwell with a total of 524 campsites. Many of the campgrounds include restrooms, showers, boat ramps, playgrounds, electric and water hookups, courtesy docks, group camping, and designated swimming areas.
Biking trail. The Corps of Engineers Lake Hartwell office partnered with the Southern Off-Road Bicycle Association (SORBA) to build a 7.6 miles (12.2 km) multi-purpose trail at the Paynes Creek Campground area.
Fishing. Hartwell is home to many different types of fish including largemouth bass, bream, hybrid and striped bass, crappie, white bass, trout, and walleye.
Swimming. The lake is suitable for swimming but there have been over 200 deaths on the lake through the years.
Water sports. The Lake is a venue for a variety of sports such as tubing, water skiing, and wakeboarding.
Boating. Boating is a huge part of the recreation side of Lake Hartwell. There are five marinas along the lake, including Clemson Marina, Big Water Marina, Harbor Light Marina, Hartwell Marina, and Portman Marina as well as many public boat ramps. The lake also features the private Western Carolina Sailing Club that hosts an annual regatta in October to benefit Hospice of the Upstate.
---
LAKE JOCASSEE
Is a 7,500-acre, 300-foot deep reservoir located in northwest upstate South Carolina created by the state in partnership with Duke Power in 1973. The lake is commonly known for the clean and cold Appalachian mountain rivers that feed the lake to keep its waters cool and clear year-round. The lake is within Devils Fork State Park. There are four different smaller rivers that feed into Lake Jocassee. Similar to Lake Hartwell, as one can guess the real estate for sale on Lake Jocassee is some of the most premium property in the Upstate near Greenville / Spartanburg SC. The same fish species as in Lake Hartwell can also be found in Jocassee. 
---
LAKE KEOWEE
Also a man-made reservoir this lake was created to serve the needs of a power utility (Duke Energy) as well as public recreational purposes. It is approximately 26 miles long, 3 miles wide, with an average depth of 54 feet, and a shoreline measured at 300 miles in total and is approximately 800 feet above sea level. The lake is connected by damn to Lake Jocassee and as you can imagine shares the same recreational activities as the other two Greenville SC area lakes of Hartwell and Jocassee. Search homes for sale lake Keowee.
As with most of the lakes around the upstate, they are Indian names from the Cherokee tribe located in Oconee County. 
---
LAKES OF SOUTH CAROLINA
LAKES OF SC HOMES FOR SALE