55+ communities in South Carolina, also known as "active adult communities", are residential developments specifically designed for individuals who are 55 years of age or older. Homes for sale 55+ neighborhoods in SC. Search by region of SC. These communities are becoming increasingly popular in South Carolina as the appeal of retiring in Florida has waned in the last couple of decades. As people are living longer, healthier lives, and seeking to live in environments that cater to their specific needs areas like Myrtle Beach, Summerville (Charleston market), Spartanburg, and especially Columbia have seen a boom (no pun intended) in buyers moving south. The Myrtle Beach market has the highest number of 55+ active adult neighborhoods, and the Columbia region has the most patio home communities. The Charleston SC area only has six communities for the 55+ population. Call us if you want to move to SC. Del Webb is the most recognizable home builder that tailors their product to this demographic and is owned by Pulte Homes.
MLS Listings Data
| | |
| --- | --- |
| Total Listings: | 198 |
| Average Price: | $423,682 |
| Highest Listing Price: | $2,204,800 |
| Average Days On Market: | 86 |
| Average Price/SqFt: | $225 |
55+ Communities South Carolina Homes For Sale currently has one hundred and ninety-eight (198) for sale on MLS. 55+ Communities South Carolina Homes For Sale listings have an average sales price of $423,682 ranging in price from $50,000 to $2,204,800. The average sq ft home size of 55+ Communities South Carolina Homes For Sale West Columbia SC is 1,880 square feet. The largest property for sale is 8,712 sqft and smallest 635 sqft. View property listings for sale by price, street, subdivision, age, property type, location, features, size, and listing date, and time on MLS with an of 86 days on the market.
Number of MLS Listings 1 - 9 of 198
---
The functioning appeal of a 55+ Community: The primary function of a 55+ community is to provide a comfortable and secure
living environment for older adults. These communities typically offer a variety of amenities, including recreational facilities, swimming pools, pickleball, tennis courts, fitness centers, and social activities oftentimes close to fire departments (with EMTs near). In addition, they often provide maintenance services such as lawn care, snow removal, and trash removal, which can be a major convenience for older adults who no longer want to perform these tasks themselves. Some communities for retirees in South Carolina like Hulon Green in Columbia SC, Swansgate Village in Greenville, Covenant Towers Myrtle Beach, and Rolling Green Village in Greenville SC, just to name a few will have medical personnel on-site, daily meal delivery, linen cleaning, and housekeeping depending on the development. The most popular builder in America that caters to this lifestyle is Del Webb (a Pulte Homes Group company) well-known for its quality homes, and the attention to detail retirees are looking for.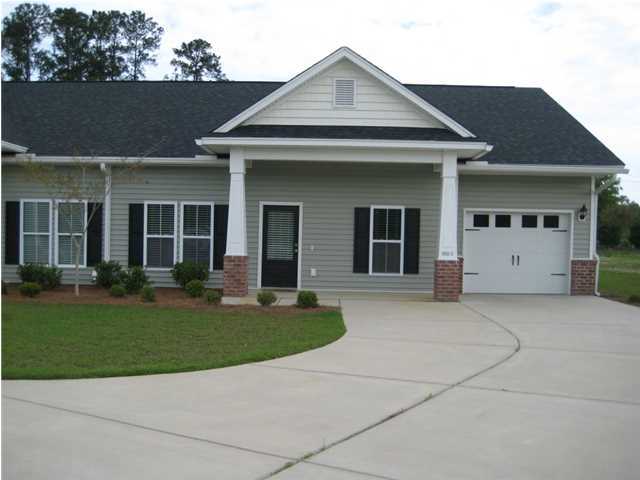 House Plans & Design Considerations: More times than not, if not 90% of the homes will either be patio homes (aka low-maintenance homes), or smaller sized homes under 2000 sq ft with the master suite downstairs and on small lots or home sites. Ground level or close to ground level, one-story floor plans with large door frames are also a common element in patio homes to accommodate the eventual likelihood of owners using a walker or wheelchair as they age. Other commonly seen features of home designs will be large showers without a high step into the shower enclosure, sometimes, a walk-in bathtub, showers with multiple handles, and a seat. All the things you'd expect in a retirement community. Other popular choices in active adult & retiree neighborhoods are duplexes, and townhomes, where there is essentially NO maintenance work to consider. If the homes are raised homes, builders will offer a plan that includes an elevator. 
VISIT SCBook Hotel Room
CHARLESTON SC AREA 55+ Friendly Communities:
---
MYRTLE BEACH SC 55+ Active Adult Neighborhoods 
ACTIVE ADULT 55 + NEIGHBORHOODS
---
ALL ABOUT LIVING IN A SC 55+ COMMUNITY HOME OWNERSHIP
Reasons for the existence of 55+ Communities: 55+ communities exist to provide a place where older adults can live independently while enjoying the company of others in a similar age group. Many people in this age range are retired or nearing retirement, and they may have different priorities than younger adults. For example, they may be interested in downsizing, living in a maintenance-free home environment, or having access to on-site medical care.
Pros of 55+ Communities: One of the most significant benefits of 55+ communities is the opportunity to socialize with others in
the same age group. This can help combat loneliness and isolation, which can be common problems for older adults. Additionally, 55+ communities often provide a sense of security, as they are designed with safety features such as gated entrances and 24-hour security. Many residents also appreciate the convenience of having access to various amenities, including fitness centers and recreational facilities, which can help promote an active and healthy lifestyle.
Cons of 55+ Communities: While there are many benefits to living in a 55+ community, there are also some potential drawbacks. For example, some residents may feel isolated from the rest of the community or from younger people in general (if they do not have visitors regularly, or get out to social activities). Additionally, the rules and regulations of the community can sometimes be restrictive, which may not be appealing to everyone. Finally, the cost of living in a 55+ community can be higher than living in other types of housing due to the monthly HOA fees and capital requirements of the community. For instance, most Del Webb communities in South Carolina, have at least a $300 a month regime fee. 
The conception of 55+ Communities: The idea of 55+ communities was conceived in the mid-20th century, as more and more people began to live longer and retire earlier as the baby boomer generation hit retirement age. The first 55+ community was established in the 1960s in Sun City, Arizona, and it quickly became a model for other similar developments around the country.
Overall, 55+ communities can be a great option for older adults who are looking for a comfortable, secure living environment with access to amenities and social activities in South Carolina. However, it is important to carefully consider the pros and cons and to thoroughly research any community you are considering before making a decision.