Pier View condos Daniel Island SC – Charleston. Originally built in 2007 the condos known at Pier View are a bit misleading with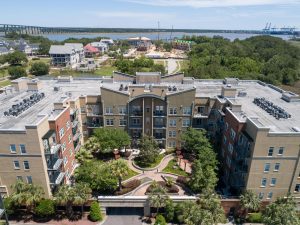 the name, as there is no "pier view". However, we do have a marsh view. The condo development is in the heart of "downtown" Daniel Island close walking distance to dining, and other activities. The condos are managed by Sentry Mgmt who handles all things pertaining to the HOA, dues, maintenance, and legal. The development offers 1,2 & 3 bedroom floor plans, a raised foundation for parking below, outdoor lounge areas, elevators, and a swimming pool. The design is simple with most units having granite countertops, tile, wood & carpet floors, and 9 ft ceilings. There are three buildings total 125, 135, 145 Pier View with almost 100 units total. Exterior construction is stucco & brick. There are monthly regime fees starting from $530 – $738. Also, Daniel Island has a community improvement fee, and there is also a capital contribution fee at closing to ensure the HOA has sufficient capital. The development is currently in the middle of a lawsuit settlement. Understanding Condo ownership.
MLS Listings Data
| | |
| --- | --- |
| Total Listings: | 5 |
| Average Price: | $511,960 |
| Highest Listing Price: | $669,000 |
| Average Days On Market: | 40 |
| Average Price/SqFt: | $369 |
Pier View Condos Daniel Island SC For Sale currently has five (5) for sale on MLS. Pier View Condos Daniel Island SC For Sale listings have an average sales price of $511,960 ranging in price from $419,900 to $669,000. The average sq ft home size of Pier View Condos Daniel Island SC For Sale Charleston SC is 1,387 square feet. The largest property for sale is 1,724 sqft and smallest 1,167 sqft. View property listings for sale by price, street, subdivision, age, property type, location, features, size, and listing date, and time on MLS with an of 40 days on the market.
Number of MLS Listings 1 - 5 of 5
---
NEIGHBORHOODS & DEVELOPMENTS
SECTIONS - NEIGHBORHOODS - DEVELOPMENTS DANIEL ISLAND