In the last few years a lot of new and exciting luxury condo projects have come to market with new ones coming up in Charleston SC that are even started so with all this new development, prospective buyers to Charleston probably want a luxury condo expert to help provide them with the best new luxury condo info. So, I wanted to highlight the best new and upcoming luxury condominium projects slated to come to Charleston in the next two or so year if you're in the market for finding your own single family attached home. Some of these new developments offer both waterfront views, marina access, and some do not, it all depends on what you're looking for. 
THE GADSDEN
The Gadsen is located on the peninsula of downtown historic Charleston SC in Ansonborough neighborhood and is being built and developed by luxury condo masters East West Partners. The same development company who did The Tides IV in Mt Pleasant. The building project is still under construction currently, and many of the condo units have been purchased and/or have reservations. The condo is only blocks away from the Charleston Aquarium and Ferry ramp. Overlooking Gadsdenboro Park at 7 Gadsden St the project is a 5 story building featuring an owners club lounge, rooftop swimming pool, fitness center, dog washing station and more luxury amenities. CLICK TO SEE LISTINGS.
PRICE: $750,000 – $1.5 Million
---
THE LANDING – at St Johns Yacht Harbor
Located on John's Island just after you go over the Maybank Hwy bridge on the Stono River will sit 54 exclusive waterfront and marina front luxury condos overlooking the gorgeous Stono River. Boasting high-end finishes in the "base" model condos of The Landing at St John's Yacht Harbor the developers & builder are offering additional upgrade options for those to want even more opulence. Buyers will have the convenience of having their boat in one of the best marinas in Charleston (should they choose to buy or rent one), but why live here if you don't – right. The community HOA will have access to a large saltwater swimming pool, fitness center, dedicated drive under parking and more. The Charleston municipal golf course is only 5 mins away too. CLICK TO SEE LISTINGS -> 
PRICES: $925,000 +
---
ST. MARY'S FIELD
Located at the prime location of Broad Street and Lockwood Boulevard along the Ashley River, the property will be made up of a waterfront park and 20 single-family attached townhomes just over 2400 sq ft. Each individual unit at St Mary's Field will have their own formal front entries, limestone exteriors and large, expansive window areas to see the amazing views of the Ashley River & the Park so as to keep with design requirements consistent with that of the historic peninsula.The anticipated start date for the project is summer 2020 with a target completion date of late 2021. Prices have not been released. CONTACT ME DIRECTLY FOR RESERVATIONS LIST. 
PRICE GUESS: $2 Million+
---
HARLESTON GATES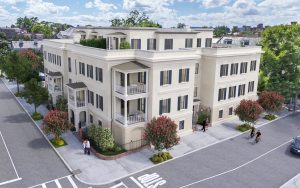 With only 8 total residents these luxury condominiums for sale known as Harleston Gates are in the heart of downtown Charleston SC peninsula at 31 Smith St. These luxury condos in downtown Charleston SC situated in the neighborhood of Harleston Village, will be comprised of: 4 flats and 4 penthouses. The units range from 1700 sq ft – 2770 sq ft. Only the best finishes here will be used, and amenities offered for the project will be a doorman, dog washing station, & vehicle charging in the garage. Units include one 2 bedroom unit, and the other will be all 3 bedroom floor plans with 3.5 baths. CONTACT ME FOR  PRIVATE SHOWINGS. (ONLY two units left) 
PRICE RANGE: $2 Million+