Soon there will be new construction luxury condos in downtown Charleston SC. The Gadsden will 
have 76 one, two, and three-bedroom residences modeled after the success of The Tides IV in Mount Pleasant SC. If The Tides IV is any clue of the quality of what's to come these newly constructed luxury condominiums  The Gadsden will feature 9′ 6″ ceilings, private balconies, top-of-the-line kitchen appliances, marble counters, high-end cabinetry, hardwood floors, high ceilings, chef's kitchens, Along with park and harbor views. Construction is expected to take 20 months, with completion set for fall 2018 according to the latest talks with the developer. The cost will be priced from $500,000 to more than $1 million for two- and three-bedroom units available for purchase through reservations system now. 
*  CALL TO REQUEST INFORMATION WELCOME BROCHURE
Located in what's known as Ansonborough community, this condo project will be different than any of the current condominiums for sale downtown Charleston SC. Although there are a lot of luxury mid-rise developments there are none with the amenities this will have, much less a pool on the roof. The other nearby luxury condo developments like Dockside, Anson House, 33 Calhoun and Lauren's Place, are sure to be jealous.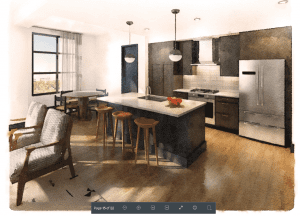 Located at the south end of Gadsdenboro Park at Laurens and Concord streets next to Williams Terrace, and The condominium project is part of the redevelopment of the parcel near the Charleston Maritime Center and the South Carolina Aquarium. A new street called Gadsdenboro will run between Gadsden condominiums and the park from Concord Street. 
Floor Plans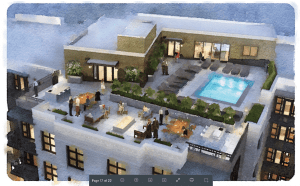 AMENITIES
Rooftop Pool
Rooftop Social Club
Rooftop Outdoor Kitchen
Firepit
Dog Washing Station
Secured Parking & Storage
Onsite Property Manager/Concierge 
THE SOCIAL CLUB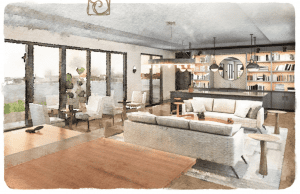 ---
LUXURY CONDOS CHARLESTON SC BY BUILDING