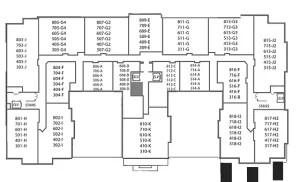 Bee Street Lofts in Downtown Charleston SC luxury Condos for sale – sit as the name implies on Bee St. Located near MUSC & the VA Hospital these semi-
luxury condos offer convenience each one-bedroom unit comes with one deeded parking space, and most two-bedroom units come with two deeded spaces. The garage is gated and secured, and key fobs are necessary to move between floors. There are also 3 bedroom units available as well. Built in 2007 to much fanfare the development recently underwent a large exterior renovation to address some water intrusion issues but has since been corrected. With true "loft style" flare, the condominiums have concrete floors (unless the owner installed otherwise) and exposed HVAC ducts unlike most condos in the area, offering 1 & 2 bedroom floor plans. There are limited amenities of an elevator & fitness gym so that helps keep HOA regime fees of just $370 – $500 +/- a month depending on the size of the unit. The HOA regime property managers oversee all the upkeep of the common areas, amenities, collection of dues, insurances, & pest control. Poston & Co are the property managers who can be reached at 843.720.5656.
*If you've never owned a condo before which is common to many buyers moving here, it's important you understand everything about condo ownership.
MLS Listings Data
| | |
| --- | --- |
| Total Listings: | 5 |
| Average Price: | $628,600 |
| Highest Listing Price: | $895,000 |
| Average Days On Market: | 82 |
| Average Price/SqFt: | $471 |
Bee Street Lofts For Sale Charleston SC Condos currently has five (5) for sale on MLS. Bee Street Lofts For Sale Charleston SC Condos listings have an average sales price of $628,600 ranging in price from $419,000 to $895,000. The average sq ft home size of Bee Street Lofts For Sale Charleston SC Condos Charleston SC is 1,334 square feet. The largest property for sale is 2,053 sqft and smallest 951 sqft. View property listings for sale by price, street, subdivision, age, property type, location, features, size, and listing date, and time on MLS with an of 82 days on the market.
Number of MLS Listings 1 - 5 of 5
---
LUXURY CONDOS CHARLESTON SC BY BUILDING