WAGENER TERRACE Homes DOWNTOWN CHARLESTON, SC REAL ESTATE LISTINGS FOR SALE. Search All homes for sale
in Downtown Charleston SC including the Wagener Terrace borough. View all properties for sale in the Wagener Terrace community in Charleston SC by the number of bedrooms, price, size, age, street, and features. Located outside of the crosstown in the zip code of 29403 Wagener Terrace is one of the "newer" sides of Charleston, with cute bungalow-style homes, mature trees, and a lot of investment opportunities. 
MLS Listings Data
| | |
| --- | --- |
| Total Listings: | 5 |
| Average Price: | $1,920,000 |
| Highest Listing Price: | $2,950,000 |
| Average Days On Market: | 84 |
| Average Price/SqFt: | $777 |
Houses For Sale Wagener Terrace Charleston SC currently has five (5) for sale on MLS. Houses For Sale Wagener Terrace Charleston SC listings have an average sales price of $1,920,000 ranging in price from $700,000 to $2,950,000. The average sq ft home size of Houses For Sale Wagener Terrace Charleston SC Charleston SC is 2,471 square feet. The largest property for sale is 3,630 sqft and smallest 1,696 sqft. View property listings for sale by price, street, subdivision, age, property type, location, features, size, and listing date, and time on MLS with an of 84 days on the market.
Number of MLS Listings 1 - 5 of 5
---
ABOUT WAGENER TERRACE LIVING
Wagener Terrace is a charming residential neighborhood located in the heart of Charleston, South Carolina. This neighborhood is a popular destination for both locals and visitors, thanks to its picturesque streets, historic homes, and proximity to some of the city's best attractions. In this article, we'll take a closer look at what makes Wagener Terrace such a special place to live or visit.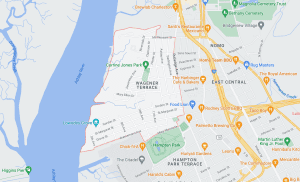 First, let's talk about the history of the neighborhood. Wagener Terrace was developed in the early 20th century, and many of the homes here date back to that time period. The neighborhood was named after Joseph W. Wagener, a prominent Charleston businessman who was instrumental in its development. Today, the neighborhood is known for its historic architecture, with many homes featuring classic Charleston touches like ornate ironwork, wide porches, and colorful shutters.
One of the biggest draws of Wagener Terrace is its location. The neighborhood is situated on the banks of the Ashley River, giving residents easy access to the water and stunning views of the marshes and waterways. In addition, Wagener Terrace is just a short drive or bike ride from some of Charleston's top attractions, including the historic downtown area, the South Carolina Aquarium, and the trendy Upper King Street district.
But there's plenty to do within the neighborhood itself as well. Wagener Terrace is home to a number of parks and green spaces, including Allan Park, which features a playground, basketball court, and plenty of room to run and play. The neighborhood is also a great place for cyclists, with easy access to the West Ashley Greenway, a scenic trail that winds through the city's west side.
Another highlight of Wagener Terrace is its vibrant community. The neighborhood is home to a mix of families, young professionals, and retirees, all of whom contribute to the area's friendly and welcoming vibe. There are plenty of community events and activities throughout the year, including a popular annual oyster roast and several neighborhood festivals.
Of course, no discussion of Wagener Terrace would be complete without mentioning the food. This neighborhood is home to some of Charleston's top restaurants, including The Park Cafe, a popular brunch spot known for its creative takes on classic Southern dishes. Other standout eateries in the area include Renzo Wood-Fired Pizza & Charcuterie, Melfi's, and Little Jack's Tavern.
---
THE COMMON NEIGHBORHOODS OF DOWNTOWN CHARLESTON SC