Litchfield By The Sea as an investment – As an expert in luxury and coastal real estate of South Carolina when it comes to Pawley's Island real estate finding the right deal makes all the difference in your ROI and Litchfield By The Sea is no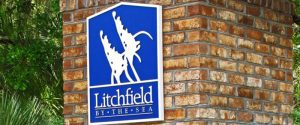 exception. Litchfield is its own niche market that doesn't fit the traditional mold of standard suburban or even resort-type real estate. Most of the buyers and owners of Litchfield By The Sea Resort are not living there as their primary residence and in many cases not even a second home. Many of the properties here are 3rd and some 4th homes for their owners, and because of this a lot of them are trying to recoup some of their investment by renting out to the hundreds of thousands of guests that visit the famous beach resort each year. What makes Litchfield on Pawley's Island such a special place is no mystery to those who have been, and many of its visitors come back year after year to stay or rent one of the hundreds of villas (really just condos), cottages or homes that are available to guests that stay in the resort. So if you too want to buy your own slice of golf heaven in Litchfield there are some things you may want to know.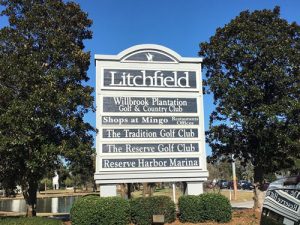 One- the costs to own in the resort are not cheap. Let me explain. There are quite a few regular

expenses that one must consider such as yearly HOA dues, upfront closing cost capital contributions, insurances for living near the beach and in a flood zone, and last but not least regime fees (if you want a villa/condo). If you want to buy into one of the club memberships then that is another thing altogether. For a lot of people who want to buy on the island many of whom have never owned a single-family attached home (aka condo, villa, townhouse) there are factors to condo ownership and owning investment properties one must take into account as well.
There are essentially three property management options available to buyers who wish to rent out their properties when they aren't using them. The obvious is behind the gate – i.e. the "official" resort agency. Then there are a few well-respected outside-of-the-resort real estate companies that also do property management. I encourage you to do your research about facets of rental home property management. Then you'll also want to consider self-management with Booking.com or VRBO. Keep in mind, you'll then have to hire your own cleaning and Airbnb manager "host" who will also take a fee. The costs will be less, but the responsibility and hassle may not be worth it. 
VETTING RENTAL PROPERTY MANAGERS
Get records about Occupancy Rates
Ask about commission percentages and try to negotiate them down
Cleaning Fees, negotiate them
Maintenance procedures
Emergency procedures
Here is how their costs break down:
Most Resorts in SC– charge 30%-40% for oceanfront properties (easier to rent) and 50% for non-oceanfront. Keep in mind most people who research online to come to visit here will find them first and call them first, and that's why you pay so much commission for rental management. If you have a newly renovated property they sometimes reduce their commissions to 45% or 35% (for a beachfront property). The nicer your unit/property the higher the nightly rental rate. If you have an older unit that has not been renovated and has no views, then you're not going to get as much as the "premium" rentals will. Common sense right?
Companies outside the resort may charge 30% for rental commissions so your net income would obviously be greater. Sometimes only 20% for certain criteria on a per-situation basis. However, there is the potential risk their occupancy rate will be lower on average because as one can guess, most people searching the web are usually going to be directed to the resort's website or marketing efforts. This is how Litchfield By The Sea justifies their higher commission percentage rate. 
One of the HUGE factors to consider is how much YOU as an owner will use it. As you can figure out if you use your condo/home more the less income you can make. Also, consider the times of year you use it. If you want to use it in the middle of the busy tourist season of summer, then you're going to make less income. Whereas, the smart thing to do is come when it's the off-season. Plus the weather is more enjoyable. 
For a greater understanding of what an average condo might make we break one down for you below:
Units such as one like 341 Dunes Dr. (in Captains Quarters) this 3 bedroom 3 bath condo in Litchfield, is a second-floor unit and is an oceanfront condo. If we look at the numbers below you'll see that the weekly rental is on average $2980.There was even a "snow bird" rental from Dec-April that brought in another $17,000. We can safely assume any non-rented weeks were used by the owners.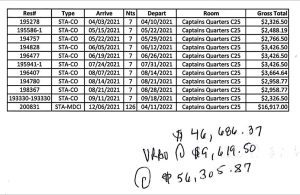 Potential Gross rental income = $120,000 +/- yr if you rented out at least 40 weeks a year at an average of $3000 per week. Let's take that down to an even $100,000 to be safe.
Less 40% Management fees = $40,000 +/-
House Keeping = $4400 +/- (you'll want to inquire & get records)
Captains Quarters Regimes ($1035 month) = $12,420 +/-
Utilities = $3700 +/- (you'll want to inquire & get records)
Taxes = $7000
MISC = $2000 +/-
______________________________________________________________________________
NET = $30,480+/-