Heron Marsh Villas For Sale in Litchfield By The Sea are raised townhomes set off the beach in the famous gated resort of Pawley's Island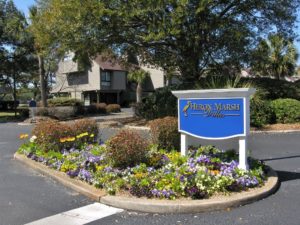 SC. Constructed in 1986 (as evidenced by the angled wood siding) these lovely resort-style "villas" have been favorites for visitors to Litchfield & Pawley's Island since going up. The HOA fees / dues are $689 a month to own here which covers all the exterior upkeep, common areas, landscaping, and insurances. View all MLS real estate property listings in Litchfield By The Sea by section, condo building, oceanfront properties, townhomes, price, bedrooms, floor, size, and more. You may also want to read – > Understanding investment rental properties at Litchfield. If you want one of these as a nightly for vacation visit Booking.com.
Sorry there currently are no properties for sale.
See the list below for what is for sale now by neighborhood or create your own search filter below
A

B

C

D

E

F

G

H

I

J

K

L

M

N

O

P

Q

R

S

T

U

V

W

X

Y

Z
All
Homes
Condos
Land
Multi-family
Townhouse